1:13:30. I lapped everyone on the couch. I also got lapped by the winner of the half-marathon.
Twice.
Other than that, things went pretty well. I knew I wasn't going to have a blistering time. The plan was to do a 1:1 run/walk ratio on minute intervals.
Pre-Race
Prep for this race was actually more obnoxious than usual because of the temperature. It was supposed to be high 30s to start and mid-40s when I would finish.
This is generally jacket weather for me. My lungs don't appreciate cold air, and it gets worse if my torso is cold. Because it was in the 30s to start, I figured I would get one of my thicker long-sleeve shirts. And then I couldn't find it.
I have three thicker shirts. The one I wanted wasn't in the office, so I knew it was at home. And then I couldn't find it at home. I really have no idea where that thing is. Luckily, I have a thinner cold-weather shirt that's ok. With the jacket, I would be fine.
The next worry for me was parking. It was downtown in a relatively small town. If the race was packed, parking could become a problem pretty quickly. There ended up being about 400 people across the three distances running today. I had to leave a bit early to park where I wanted.
Of course, I then got to find out people have no sense of politeness when it comes to parallel parking spots. Two big SUVs decided to park as far forward in their spots as they could and for some unholy reason didn't pull into the spots the farthest forward, so I got to do an awkward backing in to get my spot. It was fine, but it was obnoxious parking. Of course, they were Ole Miss and Bama fans, so I guess I shouldn't have expected anything better from them.
Now for a pet peeve of mine. Pretty much every race I go to says to bring ID to pick up your packet. I think the only time I've actually shown ID to get my packet was Disney (and I'm not even sure if I actually showed ID). They say it and never ask for ID when you actually show up. Luckily, I've stopped bringing my ID along to the booths. I figure if it ever gets asked for, I'll tell them to Google my name. Perks of having a weird name. The only person who shows up in the results is me.
Other than that, not much was atypical about the setup. You have the usual lacking number of port-a-potties. You have loud music. You've got people who didn't know there was a race going on trying to go about their usual Saturday routine as runners are crawling all over the place with nervous energy.
I just basked in the sun waiting for the race to start. And then I got hot. Uh oh.
If I was hot standing in the sun, this wasn't going to bode well for running. I was honestly afraid I was going to be a little on the cold side to start because I had on the thinner long-sleeve shirt underneath. Now I was about to ditch my jacket and was again having to worry about being cold in just two shirts because 6.2 miles of overheating wasn't about to happen.
Luckily, my Batman shirt was a tight fit, so it helped trap heat in and acted as an extra buffer for the wind.
Unluckily, I hadn't brought my arm band, and I didn't trust myself to hold my phone for 6.2 miles. I was going sans music (well, podcast. I was going to listen to a Nerdist episode during my fat kid shuffle).
The rest of my attire was fine. I wear the same cap in the heat and the cold. Of my two viable pairs of running shoes (I have Adidas that are in good shape, but a foot injury rules them out for now), I only race in my Asics, so there was never a debate there. I also had a new pair of Goodr sunglasses to wear for the race.
I was in the red-framed glasses. It's hard to tell in the picture, but they are the most obnoxious color scheme: blue lenses, red frames, and yellow ear pieces. I thought I'd never wear them (they came bundled with the other two I got in the Kickstarter). And then I realized the obnoxious color scheme went well with the obnoxiously colored shirts I wear to avoid getting hit by cars. Turns out the pair I looked forward to the least are going to be my priority pair for running.
I was dressed for success and ready to gol
The halfers took off, and then the 10K and 5K runners lined up together.
Now all I had to do was run. And then walk. And then run. And then walk. Etc.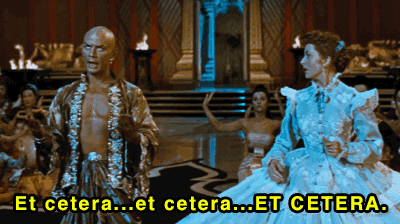 Actual Race
As usual, some walkers made their way to the front. I'm starting to think they can't help themselves. If this was a track meet, someone would spike them in the back of their legs.
I hung out in back because I knew I wasn't going to finish in front of many people. I had to let myself run longer in the beginning than I intended just because of the mess of walkers around. I don't dislike walkers, but when they start in the middle and front, they're an obstruction. Think of the person hanging out in the left lane in traffic who isn't passing the car on the right. That's what they're doing.
The weather was beautiful, though I wasn't quite dressed correctly. I really did need a little bit thicker shirt. I was ok, but not 100% comfortable to start. Luckily, the day came to me. Unfortunately, my hands weren't in great shape. I don't wear gloves when I run, and my hands stay cold naturally, so they got stiff pretty fast. It's not like I needed to compose a letter, but it's never fun to basically have your hands become useless for the better part of an hour.
I don't have any über-weird stories to tell about the other runners. I had my typical crowd that I would yo-yo with. At least they were also alternating between running and walking. The only mildly interesting stories come past the halfway point. One runner turned to ask if I was dying too. I think they were feeling social. Or maybe they'd never seen the dark knight in person before. Who knows.
The other interesting thing was someone who kept yelling in frustration. I've done a fair amount of races now (21 is my best guess), and this is the first time I've had that happen. I think they were in that "I'm exhausted and going on fumes" mode. The last time I remember hearing people do that was during football workouts. Usually these were the people who didn't really want to play football and were there because someone made them be there. I hope that wasn't the case. It sounded like someone was running with them and encouraging them, but this is kind of a dangerous game to play. I'm not fond of running, but I don't feel the need to yell. If they do, maybe they'd be better off with a different hobby. Again, I don't know what was going on. I just know it was weird.
The running and walking went fairly well. I knew I couldn't put together a blistering pace. I was vaguely optimistic that I'd be feeling good at the end and could extend my running segments.
That did not happen.
It wasn't a brutal course by any means, but there were a good amount of climbs to make. These were mostly halfway and later, so they gassed me pretty good. But I did survive. My lungs went first because that's what they do, but my legs were dead by the end too.
And to pour salt on the wounds, there was a steady climb to finish the race. You never notice the grade of a road until you're actually running it. I always thought of it as a fairly level stretch until today. This is also when the half winner flew past me for the second time.
But I finished and I high-fived a couple of cows. All in all, it could have gone worse.
Post-Race
There's not much to say post-race. For once I finished in a weird spot where there wasn't a mess of people at the end. Only one half-marathoner had finished. All of the 5K runners were done. And I was far enough back in the 10K that there weren't many of them left either.
I snagged a couple of slices of pizza before walking around as my inadequate cool-down. I then went to my car to switch to a dry shirt and get my watered-down bottle of Gatorade. Of course, I had to get two more slices of pizza before I left, so I went back to the finish line for that. A few coworkers were running other races and I vaguely thought of sticking around, but then I realized I wanted to continue making bad decisions more than I wanted to hang out in the wind with sweat salt caking my face.
The bingeing continued with a some Sonic: 5-piece chicken strip meal, with tater tots, toast, an onion ring, and Coke. I left two pieces of chicken behind for later and ate the rest. After all this mess, I had gained 2 pounds compared to my pre-10K weight.
I really am good at turning good decisions into terrible mistakes.
At least I had enough sense to foam roll after I ate. I'm also icing my knee as I type to prevent further problems.
But that's all I have for you, party people. I've got 5 more of these to go for the year, and I have no idea when any of them will be yet. I'm hoping for every other month, but I haven't locked into a March race yet.
-Q
#ihaterunning