College towns. No matter which one you're in, there's a certain predictability.
Summers turn the place into a ghost town. And August brings new students and worse, new parents.
But there's another predictability: The start-of-term fitness kick.
You see all types. There are the regulars. The people who were here before the crush, will be here through the crush, and will breathe more easily in their supersets after the crush.
Then you have the people who USED to be regulars. They know what they're doing; they just can't quite do it as well any more.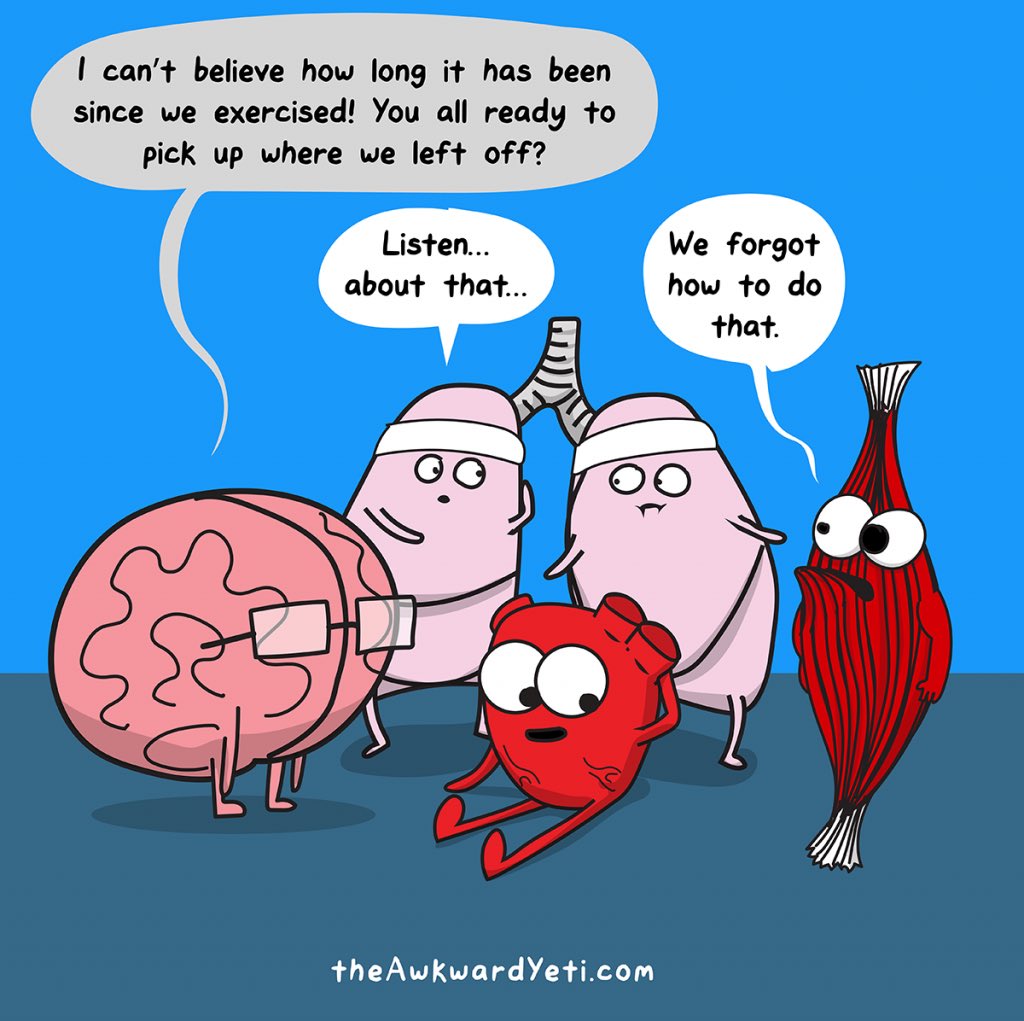 And then there are the newbies. They're easy to spot. They're tentative in figuring out what to do. No real purpose. They're awkward in what they do (and sometimes end up on Reddit for their failed efforts). And they just aren't strong yet. The weights are light and the muscle tone hasn't arrived yet.
I would venture to say most regulars don't hate the newbies or used-to-be regulars. They genuinely want them to succeed, but they also know they probably won't.
Most of the used-to-be-regulars and the newbies will fall of the wagon eventually. Some of them will even get run over by the wagon on the way down.
And why? They don't know how to maintain. They don't know how to make it a part of their lives instead of just trying to add it to their lives. They'll get busy. They'll get tired. They'll get bored.
Whatever happens, they stop. Every term, every year. It's always the same. After about a month, the gym starts to empty out a little, and the community that was assesses the damage to see who survived. What comrades did they lose? What comrades did they gain? And all the while, they knew the majority of the non-regulars wouldn't last.
And here's the worst part: I'm one of them. I rarely survive the wave myself. I might be able to ride it a little further, but I always fall off the wagon for one reason or another.
I've been a part of this push a few times, and I can only think of two times where I rode the wave. Unfortunately, even then, I wouldn't be able to sustain into the next terms. I would always fall off.
I don't know how to fix it. All I can do is my best to pay attention to past patterns of failure and success.
One of the few bright spots for me was yoga. With the exception of a summer when I was at least lifting, I stayed consistent with yoga during my 3 years in Mississippi. And how? One, it was a part of my schedule. I literally booked it. Two, I enjoyed it. I found teachers I liked, which helped me get through it all (and when those teachers disappeared, I stopped going to class).
Scheduling is what I think was the most difficult part of lifting. I don't like crowds, so afternoons are a rough time to go to the gym. The early morning is the only other way to get around the workday, but eventually I get tired and I don't maintain so well. And I fall off.
But what about going around lunch? I'd never given that a try, but I think it's come to that. Luckily, this gym is closer to me that the ones in Florida and Mississippi were, so that makes walking more doable, cutting down on gas and time.
I don't know if this will stick and I'll get to be a regular again, but I know I have to keep trying.