Moving is stressful.
Let me repeat that, moving is stressful.
Ok, got it? Good.
When you fill out those life stress forms, moving is high on the list. And because moving usually entails other life stress, those forms generally predict you're going to die in a week. That's not good. Seriously, I just took the stupid test, and I feel into the highest category.
But we're not going to focus on that. We're going to focus on the positive.
When you're going into a new job, you're supposed to look into the benefits. I did no such thing. I looked at the job. I looked at the people. And that was it. After I accepted the job, then I started worrying about benefits.
Not how they recommend doing things.
But sometimes you dumb your way into a good situation. In my (until yesterday) current job, I basically got no real health benefits beyond normal insurance. I was able to see a doctor on campus (did I mention I'm a faculty member?), and that was about the max I got on the convenience scale. At my last job, mostly the same, though because there was an attached medical school, my health insurance was all basically in-house and comprehensive. But mostly just normal stuff.
The new job? It's got some perks. The one I did know about from my interview was that the rec center on campus was free to use. Due to injury issues, I knew I couldn't get the most out of a gym membership, so I hadn't been going. This means I can do my PT exercises and whatever else my body allows. It also means I get free yoga classes, albeit probably not the type of classes I want to take. But they're there (I'll still give a real yoga studio a try in town).
That's pretty nice. No gym fees, and it'll be half a mile from my office. But that's not all.
Wait for it.
…
…
…
They have massage therapy on campus.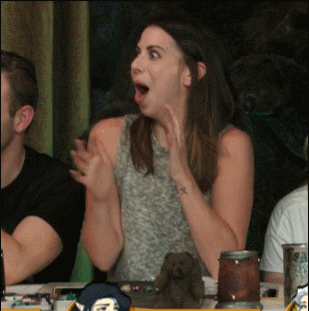 I cannot adequately convey how happy that makes me. I had to convey it in gif form.
One of the things I am not looking forward to is having to find a new MT. If this works out, I'll have one that is a 10-minute walk from my office. And it's cheaper than what I pay now.
So they'll be closer, which will cost me less time (about an hour just for travel) and gas (3 gallons of gas, so $6, give or take), and it will literally cost less (about $20 less for the same time). Please return to the above gif. I'm still in that state.
If it works out. It might not. But then again it just might.
I might start getting massages more than once a month. I always said if time and money weren't an issue, I'd get them weekly. Maybe the universe is testing how much money counts as "not an issue."
So free gym. Free yoga. And massage 10 minutes away from my desk. I think this could work out alright.